Flight Training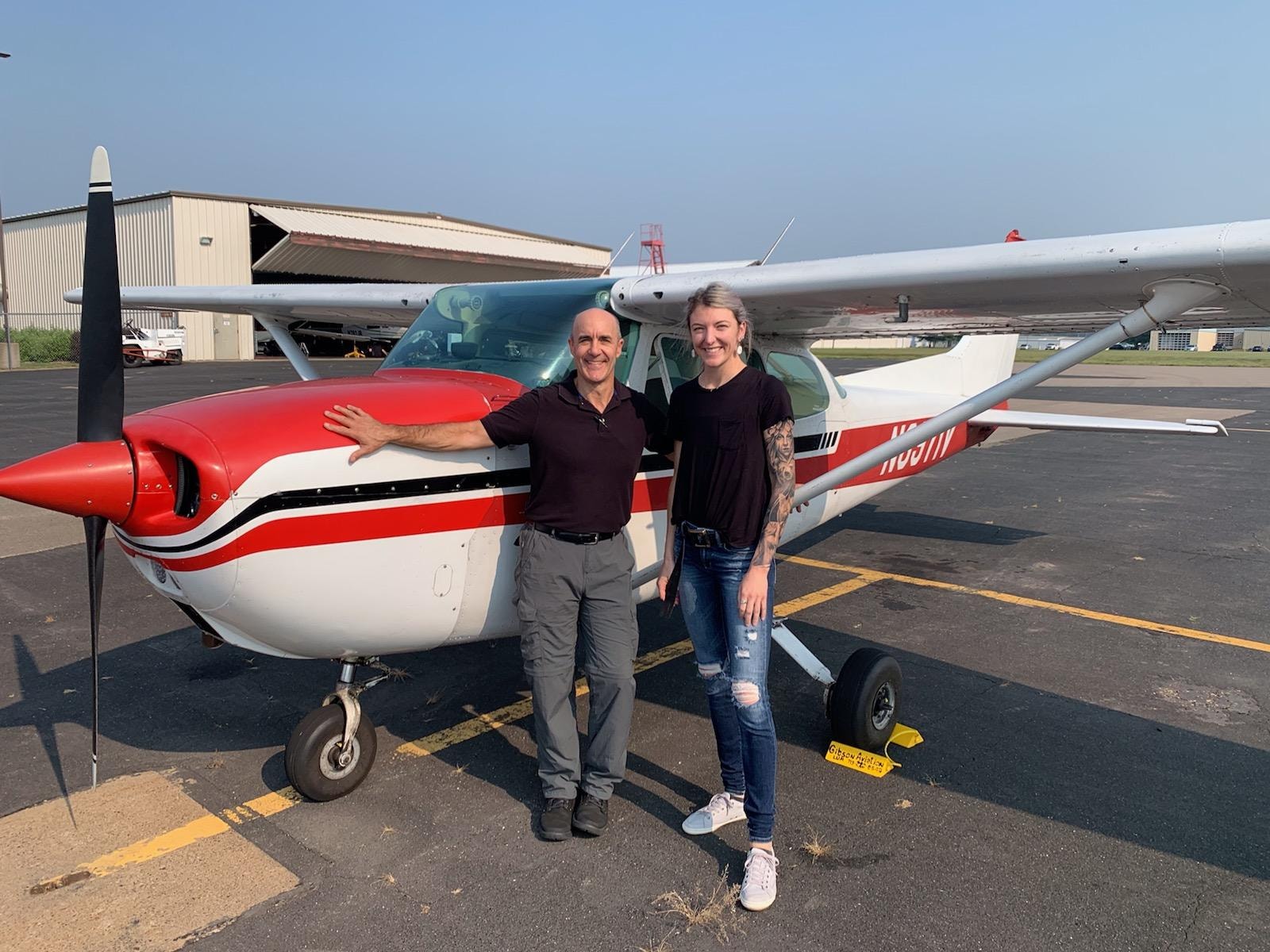 Interested in flying? Well you're in luck, we have many options available for you. Come and climb aboard our Cessna 172M, which is our primary training aircraft. If you are unsure about flying start with one of our introductory flights for only $75 and let one of our highly experienced flight instructors show you the thrill of flight. Contact us today for an experience you will not forget!
To book your discovery flight call 715-231-1836 or email darrel@gibsonaviation.com. 
Existing students click here to schedule a lesson on Flight Circle
Flight training for a private pilot:
40 hours flight time minimum (National average is around 70 hours)
20 hours flight training from the Certified Flight Instructor
3 hours of cross-country flight (more than 50 nm away)
3 hours of night flight including
1 night cross country flight of more than 100 nm
10 night takeoffs and landings to a full stop
3 hours of instrument flight training
3 hours in preparation for the private pilot practical test
10 hours of solo flight time including
5 hours of solo cross-country flight
1 solo cross-country flight of more than 150 nm to at least three airports of which one is at least 50 nm distant.
3 takeoffs and landings at a tower controlled airport
This flight time generally takes about six to seven months to complete depending how much time the student can devote to flight lessons as well as the weather conditions.
Cost
The costs vary depending on the student's ability, the type of aircraft flown, and how often the student flies. Generally, the Private Pilot license will cost between $7,500 and $9,500. This includes the aircraft rental, instructor flight and ground training fees, books, materials, knowledge test fee, flight physical, and examiner's fee. If time and funds are not prohibitive, training fees can be dramatically reduced by flying three or even four times a week. Ideally, remember this is a hobby that can last a lifetime.
Pre pay $1,000 and you'll receive a 10 percent discount!
 
Basic Instruction - $50 / hour
 
Instrument and Complex Instruction - $55 / hour
 
Multi-Engine Instruction - $55 / hour 
 
Instruction in Customer Owned Aircraft - $60 / hour 
Already a pilot?
Looking to become more proficient at your piloting skills or add a rating? Let one of our flight instructors get you on the right track to a safe flight.
Contact a flight instructor today to schedule!
Instrument Rating
Why an instrument rating? 
Earning your instrument rating is said by many to be the best thing any pilot can do. The ability to fly in the clouds is nice, but the real value is in the ability to use the whole aviation system to it full potential. Not only will this make you a much better pilot, your insurance company will most likely reward you with lower premiums, too.
What is needed?
Hold at least a Private Pilot Certificate
Be able to read, speak, and understand the English language.
Obtain at least a Third Class FAA medical certificate.
Pass the FAA written knowledge test as well as the FAA practical flight test.
Instrument Rating FAA Requirements
50 hours of cross-country flight time as pilot in command (PIC)
1 dual cross-country of at least 250 nm with takeoffs and landings at three different airports, and three different kinds of approaches
40 hours of actual or simulated instrument flight time including
15 hours of instrument training from an authorized instructor
3 hours of instrument training from a CFII in preparation for the practical test
What is the cost?
The costs vary depending on the student's ability and how much cross country time the student has before starting the training. Costs for the aircraft rental, instructor fees, books, materials, knowledge test fee, and examiner's fee need to be factored into the equation.
Complex Endorsement
A complex aircraft is one with a constant speed propeller, retractable landing gear, and flaps. It takes about five hours of flight training, along with several hours of ground school to obtain this one-time logbook endorsement by a CFI.
High Performance
A high performance aircraft is one with more than 200 horsepower. Because of their complexity and higher speed, ground and flight training is required before obtaining a logbook endorsement by a CFI.
It generally takes about five hours of flight time to learn to comfortably fly the high performance aircraft. This is also the minimum time insurance companies generally require.
Commercial Pilot Rating
Our Cessna 172 N29239, a TAA aircraft is available.
Multi-Engine Rating
Our Piper Seneca aircraft is available for multi-engine training and check-out.